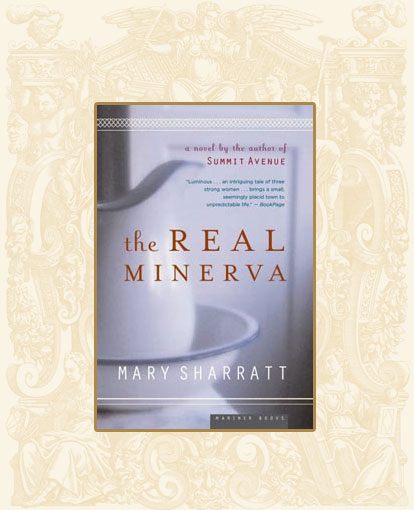 Is it possible to leave your past behind and become someone wholly different? This strongly plotted, fiercely imagined novel centers on a small town's secrets and the harrowing choices that three women will be forced to make as each struggles to pursue her dreams in a society where restraints far outweigh liberties.
Minerva, Minnesota, in 1923 is the picture of Willa Cather-like gentility. It's also a small town of limited opportunity, a place where the status quo is firmly entrenched and rigidly enforced. The troubled relationship between young Penny and her mother, Barbara, is getting worse. Disturbed by her mother's affair with the man they clean house for, Penny answers an ad to work for Cora Egan, a Chicago society woman who has fled a bad marriage and intends to raise her child alone on her grandfather's farm. Cora's situation shocks Minerva, but over time her presence opens a door in Penny's and Barbara's lives. Through these women, Mary Sharratt considers what it takes to reinvent the self, to claim one's true identity.
The exquisite historical detail and emotional resonance of THE REAL MINERVA will appeal to readers who enjoy classic storytelling with a modern spirit.


Amazon | Amazon UK | Barnes & Noble | Books-a-Million | Indiebound | Powell's


Book Excerpt

Praise for The Real Minerva
Sharratt's luminous second novel captivates the reader from the first page with an intriguing tale of three strong women who struggle against the repression of both the town and the times they live in.—Deborah Donovan, BookPage

Entertaining go-girl fiction, sort of a less sentimental Fried Green Tomatoes.—Christina Schmitt, City Pages

It's a good read and one which encapsulates a world which has gone forever, thank goodness.—Mary Vernon, Townsville Bulletin, Australia

Compelling reading.—Marie Bruni, The Daily Star, Oneonta, New York

Once again, Sharratt takes on difficult subjects—class differences, violence against women, small town conformity—and places them in a bygone era to tell a story that is powerful and haunting.—Book Sense: Barb Wieser, Amazon Bookstore Cooperative, Minneapolis
Congenial to modern tastes in its feminist sensibilities, the novel is a good old-fashioned story of perfidy, villainous conduct, and small-town censoriousness against which three heroines, each doughty in her own way, strike back.—Katherine A. Powers, Boston Globe
This second book from Sharratt is both lively and memorable, and also a reminder that it is possible to craft a good, old-fashioned novel from the most basic elements … a well-researched and entertaining period piece.—Susan Coll, Washington Post Book World
In her elegant and detailed writing, Sharratt builds her Minerva as a place the reader can touch and smell. The Real Minerva is ultimately an engrossing tale … a good story that many readers should enjoy.—Cherie Park, Minneapolis Star Tribune
A 1920s farm girl finds her warrior strength.—Mary Ann Grossmann, St. Paul Pioneer Press
Though it's set in 1920s Minnesota (a world which Sharratt brings to life in vivid detail), this novel reverberates into our 21st-century lives.—David Abrams, January Magazine
A heartfelt tale of female empowerment … [the] emotionally satisfying, old-fashioned happy ending should be a crowd pleaser.
—Publisher's Weekly

This novel is a paean to the bond between mothers and daughters, actual and otherwise … Having woven fairytales into Summit Avenue (2000), Sharratt now threads The Odyssey through this engrossing tale.—Booklist
The Real Minerva is an amazing novel: mythic and mysterious, sensual and compelling, deliciously suspenseful.—Sandra Gulland, author of the Josephine B. Trilogy and Mistress of the Sun