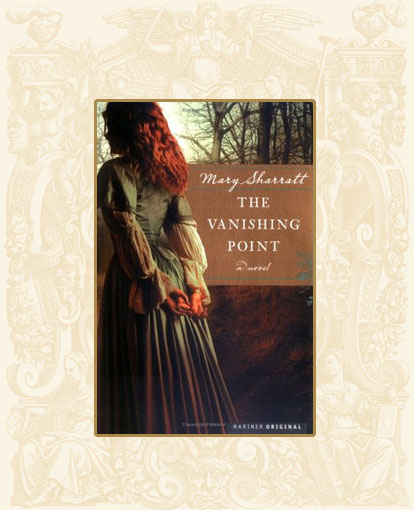 Set in seventeenth-century Maryland, THE VANISHING POINT is a novel of dark suspense, love, and betrayal featuring two star-crossed sisters, one lost and the other searching.
In the tradition of Philippa Gregory's smart, transporting fiction comes this tale of two independent, spirited sisters. Bright and inquisitive, Hannah Powers was raised by a father who treated her as if she were his son. While her beautiful and reckless sister, May, pushes the limits of propriety in their small English town, Hannah harbors her own secret: their father has trained her in the physician's art, an education forbidden to women. But Hannah's secret serves her well when she journeys to colonial Maryland to reunite with May, who has been married off to a distant cousin after her sexual misadventures ruined her marriage prospects in England.
As Hannah searches for May, who has disappeared, she finds herself falling in love with her brother-in-law, even as she struggles to believe his claim that her sister died in childbirth. Alone in a wild, uncultivated land where the old rules no longer apply, Hannah is freed from the constraints of the society that judged both her and May as dangerous — too smart, too fearless, and too hungry for life. But Hannah is also plagued by doubt, as her quest for answers to May's fate grows ever more disturbing and tangled.
THE VANISHING POINT is a marvelously assured period piece. Sharratt's ten years of research on everything from seventeeth-century pharmacology to pioneer cooking are evident on each page. In this gripping, evocative novel, rich in texture and authenticity, Sharratt brings to vivid life a distant world that feels as immediate and relevant as our own.


Amazon | Amazon UK | Barnes & Noble | Books-a-Million | Indiebound | Powell's


Book Excerpt

Praise for The Vanishing Point
An intelligent and gripping book that takes us to the New World of outcasts—indentured servants, mail-order brides, failed tobacco planters, slaves—rather than the more prosperous early Americans we know from conventional historical accounts. Mary Sharratt has a passion for her story, and it shows.—Kathy Weissman, BookReporter.com
A 17th-century treasury of guilty pleasures … Without being trashy, Sharratt includes many of the guilty pleasures of romantic fiction: young women with burgeoning sexuality, time-appropriate ways for gathering berries, planting herbs, skinning animals and preparing meals. Most important, she knows how to string the reader briskly along to the novel's ultimate revelations.—Cherie Parker, Minneapolis Star Tribune
A solid story … easy to read and hard to put down.—Gwyneth J. Saunders, Maryland Independent
Her finely crafted, convincing novel is a captivating story full of dark suspense.—Sherri Wright, Owner, Book Crossing Bookstore, Baltimore, Maryland
The Vanishing Point is a well-researched historical novel with complex characters and enough plot twists and surprises to keep readers guessing and second-guessing right up to the end … The rich period detail truly gives the flavor of life in 17th century Maryland.—Sharon Parker, Twin Cities Daily Planet

An authentically detailed period piece with elements of gothic suspense thrown in for good measure.—Margaret Flanagan, Booklist
This is exactly what historical fiction should be: full of vivid, vibrant characters who make you feel what they feel, hope what they hope and suffer what they suffer. This tale of two very different sisters who make their fortunes in the New World pulled me right in and made me lose all sense of time and place. Sensitively written and beautifully rendered, Sharratt has produced a true keeper.
—Sarah Weinman, Confessions of an Idiosyncratic Mind: Picks of the Week

Mary Sharratt's new novel, The Vanishing Point, is a page-turner, a mystery, a quietly feminist tale, and a richly researched historical novel with ever-unfolding plot twists … The plot questions will keep you reading. But Sharratt's underlying message will keep you thinking long after the questions are answered.—Laurie Hertzel, Minnesota Magazine
Sharratt's description of frontier life is so sharp, you can feel and taste it with the characters. The story alternates between each sister's tale, and the two vibrant women are sympathetic and interesting.—Diana Scott Lewis, Historical Novels Review
This well-researched book will provide readers with an insight into life on the wild edges of the fledgling nation that became the USA, through the eyes of a tough and determined young woman. It's a woman's book in the best sense of that term, but not 'chick lit' by any definition.—Karen Treanor, New Mystery Reader
The Vanishing Point is a truly captivating novel. It wears its history lightly, in the best tradition of great historical fiction. Mary Sharratt has a marvelously light touch, never requiring the reader to stop and admire her research, yet, because she also has a sure hand as a storyteller, she keeps the reader completely engaged, from first page to last.—Katharine Weber, author of Triangle; The Little Women; The Music Lesson; Objects in the Mirror Are Closer Than They Appear
The Vanishing Point sings! May, Hannah, Adele and Gabriel stole my heart. Mary Sharratt's details of seventeenth century economics and medicine enhance her story, yet she never loses sight of love, hope, loss and regret. Her characters adjust to a new country and a continually changing view of one another and the past — a theme that resonates into our times. An enthralling and unusual tale from a compassionate writer.—Shauna Singh Baldwin, author of What The Body Remembers and Winner of the Commonwealth Prize
Mary Sharratt's The Vanishing Point is her best novel yet, a passionate, spell-casting story; the world she creates is vivid, intimate, evocative. The harrowing narrative held me captive as secrets were slowly revealed. I was unable to put this book down. 
—Sandra Gulland, author of the Josephine B. Trilogy and Mistress of the Sun