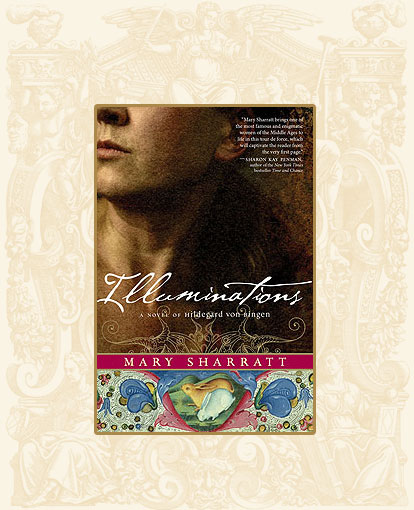 Now available in paperback, ILLUMINATIONS: A NOVEL OF HILDEGARD VON BINGEN reveals the unforgettable story of how Hildegard, offered as a tithe to the Church at the age of eight, triumphed against impossible odds to become the greatest woman of her age. Combining fiction, history, and Hildegardian philosophy, ILLUMINATIONS presents an arresting portrait of a woman of faith and power—a visionary in every sense of the word.
Hildegard of Bingen (1098-1179), Benedictine abbess and polymath, composed an entire corpus of sacred music and wrote nine books on subjects as diverse as theology, natural science, medicine, and human sexuality—a prodigious intellectual outpouring that put many of her male contemporaries to shame. Her prophecies earned her the title Sibyl of the Rhine. An outspoken critic of political and ecclesiastical corruption, she courted controversy and nearly died an excommunicant. Her courage and originality of thought continue to inspire people today.
ILLUMINATIONS was released in October 2012 to celebrate Hildegard's long awaited elevation to Doctor of the Church. It was also selected by the Book of the Month Club and One Spirit Book Club.

Amazon | Amazon UK | Barnes & Noble | Books-a-Million | Indiebound | Powell's

Book Excerpt
Interview in Encounter: A Journal of Theological Scholarship 77.2 [2017], 19-47

Praise for Illuminations: A Novel of Hildegard von Bingen

Winner of the 2013 Nautilus Gold Award: Better Books for a Better World.
Selected by Kirkus, January Magazine, and PBS WGBH Greater Boston as a Book of the Year 2012.
"Who wouldn't want to read about a ballsy 12th-century nun whose divine visions could make the most powerful evil monk shiver in his tunic? Sharratt offers up a mesmerizing reimagining of the true story of Hildegard von Bingen, probably the most famous nun of the Middle Ages. Expected to live in quiet submission as a bride of Christ under Benedictine rule, she ended up being a fierce advocate for women and the downtrodden. I'm rooting for her all the way."—People Magazine
"Narrated by Hildegard, Illuminations tells the story of her extraordinary life as a mystic, theological writer, healer, and composer. . . . it is obvious that [Sharratt's] knowledge of Hildegard's biography, books, and music is extensive. From the opening pages, one gets a sense of Hildegard's own voice and powerful personality. Two themes that run consistently through the account, and which should make it of special interest to women and to musicians alike, have to do with the significance Hildegard attached to music and her positive view of Woman as the epitome of God's creation. Eloquently and beautifully written, Illuminations brings Hildegard, her sisters, and her world alive for the modern reader." —Beverly Lomer, Journal of the International Alliance for Women in Music
"I was both moved and surprised by Mary Sharratt's novel of Benedictine abbess, Hildegard von Bingen, an extraordinary woman of the Middle Ages. One could not anticipate this majesty and drama. There are no bodices to be ripped here: no kings or dukes and nary a white horse in sight. Even so, Illuminations is riveting, following von Bingen through a harsh childhood to becoming basically imprisoned as a young nun to emerge as one of the significant voices of the 12th century. Von Bingen composed sacred music, wrote nine books on subjects as diverse as theology, medicine and human sexuality. An intellectual who had few peers during her lifetime, Sharratt depicts von Bingen as deeply human. Illuminations is unforgettable."—Monica Stark, January Magazine
"In this deeply researched and lyrically written historical novel, only the trappings are exotic. Hildegard meets with love and abandonment, torn loyalties, dim-witted superiors and jealous coworkers, even the anorexia of a friend–situations not unfamiliar to us in the 21st century. Eventually . . . Hildegard founded a Benedictine community based on humane values, and wrote book on natural science and mysticism. She composed the West's first signed music–ecstatic, soaring chants and its first musical drama. None of this was 'normal' female behavior, so along the way she had to outwit numerous powerful men, including two popes and Frederick Barbarossa, the Holy Roman Emperor. Some things never change."—Mary Pattock, Reach Magazine
"The author's excellent narrative style and gift of storytelling lure the reader. . . . One is never disappointed. Sharratt's plotline moves well, and the reader becomes a willing and eager traveler. . . . Expect to shed a tear or two."—Sharon Abercrombie, National Catholic Reporter
"This novel opens an imaginative window on Hildegard's life and times–and may (we hope) lead many readers to explore further."—Christianity Today
"That Hildegard is an extraordinary woman is without question. [Illuminations has] left me with the most lasting impression of this woman, a soul who has certainly earned her place in history."—Luan Gaines, Curled Up with a Good Book
"The masterful skill Sharratt displays in Illuminations is to create a real and accessible Hildegard who rises above the legends, projections and reinventions, thus allowing readers to understand Hildegard's spirituality as the nun herself may have experienced it. In beautiful language that dances on the ledge between secular and not, Sharratt not only tells the story of one of history's most intruiging women, she also realistically invokes the internal sensation of deep religious experience. Sharratt's approach both respects the recently canonized saint's legitimate role in the theological structure of Catholic history and frees Hildegard's long-cherished aura of mysticism. This lovely, deeply felt depiction of a humble woman who survives darkness to give her heart to the world is a tribute to Hildegard in any way she is appreciated."—Cheri Parker, Minneapolis Star Tribune
"This talented–and sometimes tormented–Benedictine nun comes vividly alive in Mary Sharratt's Illuminations . . . . Sharratt does a masterful job."—Mary Ann Grossmann, Saint Paul Pioneer Press
"Illuminations: A Novel of Hildegard von Bingen is a lovely read. . . . If you're not familiar with Hildegard, this new book will not only give you a good sense of this remarkable woman, a 'doctor' of the church, but also let you imagine what life was like during the period of the First Crusade."—Bill Tammeus, "Faith Matters," Kansas City Star
"Illuminations is a fascinating work of historical fiction about the life and times of a saintly woman whose vision that the divine is present in all of God's creation resonates across the centuries and is relevant to us today. . . . Mary Sharratt's rich details and extensive reseach portray Hildegard's life in an authentic voice from the time the visionary is a child until her death as an abbess in 1179. . . . Sharratt gives voice to Hildegard, who held steadfast to her beliefs, stood up to those in power, and was recently named a Doctor of the Church."—Donna Volkenannt, Bookreporter.com
"Mary Sharratt's Illuminations is a fascinating fictional account of the life of Hildegard von Bingen, the 12th century mystic, writer, composer, and Benedictine abbess. The novel contains a wealth of historical detail, but its true strength lies in the complex characterization of Hildegard, who . . . overcame much in her life to become the only sanctioned female theologian of her time."—Bookbrowse Editor's Choice Pick
"Mary Sharratt writes with such skill that the reader is swept along with Hildegard, experiencing her joys, her frustrations, her fears, her loves, her self-reflection, her visions, her unshakable faith in God and in the path she must follow, navigating her way through political, religious and personal obstacles. I was sorry to reach the last page."—Monasteries of the Heart
"Poignant. . . . I thoroughly enjoyed [the novel]."—Sister Mary Lou Kownacki, OSB, Benetvision
Sharratt (The Vanishing Point; Daughters of the Witching Hill) follows Hildegard as she blossoms from a frightened child into the multitalented abbess still remembered as one of the Catholic Church's most influential thinkers and innovative theologians. VERDICT: Interest in Hildegard will likely increase this year following her long-overdue canonization in May and receipt of the title "Doctor of the Church" this coming October. Sharratt's well-timed and well-written portrait, both admiring and humanizing, should please readers looking for an accessible way to learn more about the life of this fascinating medieval woman.—Library Journal, Mara Bandy, Champaign P.L., IL
Sharratt brings the elusive Hildegard to vivid life, underscoring her ability to evade or transcend Church censure while espousing a proto-feminist agenda. The ideal companion to the elevation of Hildegard by the pontiff who rebuked American nuns for their outspokenness, an irony the saint herself might have relished.—Kirkus, STARRED REVIEW
In this affecting historical novel, Sharratt imagines the inner life of Hildegard, first as an angry child, then as a young woman nurturing other girls forced into this restricted life, and finally as a mature woman leading her companions out of the anchorage . . . and advocating an idea of religious devotion based on love rather than suffering. Psychological insight, passages of moving spirituality, and abundant historical detail–from straw bedding and hairshirts to turtle soup and wooden dolls–make this a memorable addition to the genre of medieval historical fiction. —Booklist
Sharratt (Daughters of the Witching Hill) offers up an imaginative retelling of the fascinating life of the 12th-century nun Hildegard von Bingen. Though confined primarily to the abbey and peopled by a small cast, Sharratt's gripping story, like Ann Patchett's Bel Canto, is primarily about relationships forged under pressure.—Publisher's Weekly
I admit to knowing next to nothing about Hildegard von Bingen before I picked up Mary Sharratt's novel Illuminations. By the time I finished, I was in awe of the German nun, Hildegard, whose visions and persistent spirit led her to break free of her life as a forced anchorite and found her own abbey amid the male dominated church, is brought to life magnificently through a mixture of fact and conjecture that pulls you into her most unusual life . . . . A very well written tale about a woman who deserves to be remembered.—Historical Novels Review, Tamela McCann
I read this book from cover to cover and without reserve highly recommend it. Illuminations shed mosaic stained-glass light on Hildegard's fame from visions, artistry, and composing holy music.—Blogcritics Review