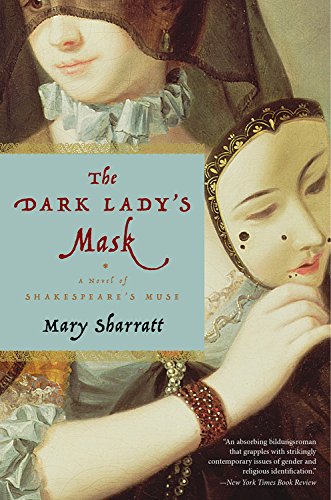 THE DARK LADY'S MASK is the story of Aemilia Bassano Lanier (1569–1645), the first professional woman poet in Renaissance England, and her collaboration—and star-crossed love affair—with William Shakespeare, as his Dark Lady.
Shakespeare in Love meets Shakespeare's Sister in this novel of England's first professional woman poet and her collaboration and love affair with William Shakespeare
London, 1593. Aemilia Bassano Lanier is beautiful and accomplished, but her societal conformity ends there. She frequently cross-dresses to escape her loveless marriage and to gain freedoms only men enjoy, but a chance encounter with a ragged, little-known poet named Shakespeare changes everything.
Aemilia grabs at the chance to pursue her long-held dream of writing and the two outsiders strike up a literary bargain. They leave plague-ridden London for Italy, where they and begin to secretly writing comedies together and where Will falls in love with the beautiful country—and with Aemilia, his Dark Lady. Their Italian idyll, though, cannot last and their collaborative affair comes to a devastating end. Will gains fame and fortune for their plays back in London and years later he publishes the sonnets mocking his former muse. Not one to stand by in humiliation, Aemilia takes up her own pen in her defense and in defense of all women.
THE DARK LADY'S MASK gives voice to a real Renaissance woman in every sense of the word.

HARDCOVER & EBOOK: Amazon | Amazon UK | Barnes & Noble | Books-a-Million | Indiebound | Powell's
PAPERBACK: Amazon | Amazon UK | Barnes & Noble | Books-a-Million | Indiebound | Powell's

AWARD WINNING AUDIOBOOK: Amazon | Amazon UK | Barnes & Noble | Books-a-Million | Audiobooks.com


Dark Lady's Mask Book Discussion Guide
A Conversation with Mary Sharratt about The Dark Lady's Mask
The Lanier vs. Shakespeare Quote Quiz! 

ONE OF THE BEST BOOKS OF 2016 – SAINT PAUL PIONEER PRESS
WINNER OF THE AUDIOFILE EARPHONES AWARD

PRAISE FOR THE DARK LADY'S MASK
 "Narrated by Aemilia Bassano Lanier, a cross-dressing poetess of Jewish descent living on the periphery of the court of Queen Elizabeth at the turn of the 17th century, Sharratt's historical novel is not just a response to the enigmas surrounding Shakespeare's sonnets but also an absorbing bildungsroman that grapples with strikingly contemporary issues of gender and religious identification, definitions and discrimination. Over the course of the novel, Aemilia — at times dressing as a man — crosses boundaries of geography, sex and faith on a path that leads her from her father's household at the age of 7 to a refined education among Christian nobility to an ethically compromised stint as a courtesan, followed by an unwilling marriage. Later, she collaborates on some of Shakespeare's most famous works as his lover, only to suffer a betrayal she cannot forgive. At every turn the reader grows increasingly attached to this sympathetic and admirable heroine, whose weaknesses make her all the more convincingly human.
Sharratt nimbly traces the inspiration for such masterpieces as "Twelfth Night" and "Romeo and Juliet" alongside the timeline of Shakespeare's journey with Aemilia, her influence carrying him from poverty to extramarital and literary bliss. Against all odds — despite Will's disloyalty and the overwhelming oppression facing women in general — Aemilia's strength of character and resolve to earn her status prevail as she becomes the first Englishwoman to attempt, let alone achieve, even modest success as a published writer."
—NEW YORK TIMES REVIEW OF BOOKS
Aemilia Bassano Lanier (1569-1645) was a woman and poet who lived a long life in and around London during the reigns of Queen Elizabeth I, James I, and Charles I.  She was a member of the minor gentry by virtue of her father Battista Bassano's position as a royal musician, one of six Venetian brothers who first served in the court of Henry VIII, and whose descendants continued to be court musicians and instrument makers through most of the seventeenth century.
We know some interesting things about Aemilia Bassano: that she was educated in the house of an aristocratic gentlewoman and very likely learned both Greek and Latin, unusual for a woman of any class in her era.  We know that she was for some years the mistress of Henry Cary, Lord Hunsdon, Queen Elizabeth's cousin and Lord Chamberlain, who was old enough to be her grandfather and who married her off to a court musician, Alfonso Lanier, when she became pregnant with Hunsdon's child. We know she published an impressive and fascinating book of poems in 1611 (the same year as the first publication of the King James Bible). It was titled Salve Deus Rex Judaeorum ("Hail God, King of the Jews"), after its principal poem, a long meditation on Christ's passion told entirely from the point of view of women.  Other poems in the volume are dedicated to noble women, including Lanier's patron, Margaret Clifford, Countess of Cumberland.
Some things we don't know for sure, but can reasonably infer: that she taught music and probably some classics (she was apparently a tutor to Margaret Clifford's daughter Anne, and she ran a school in London for a couple of years); that her mother, Margaret Johnson, was likely related to Elizabethan musicians with the same surname (John Johnson was a lutenist, for example, and Robert Johnson the Elder and Robert Johnson the younger were both composers); and that her family background on the Bassano side may have been Jewish. The Veneto town of Bassano drew the attention of the inquisition, and the Bassano coat of arms suggests a history of silkmaking—an occupation for which Italian Jews were known.  To succeed as court musicians, first for St. Mark's in Venice and then for the Tudors and Stuarts in England, the talented Bassanos would have had to be conversos, but this, of course, was often a mask.
Then there are some things that one of Lanier's first twentieth-century readers, the historian A. L. Rowse, wished were true about her: that she was a loose woman generally, and most especially that she was the Dark Lady of Shakespeare's sonnets.   Not only is there no such evidence, being the mistress of so noble and powerful a Lord as Hunsdon would almost certainly preclude both of these. Further, the supposed Shakespeare connection tends to take attention away from Lanier's own achievements as a poet, which are substantial.  And there is no reason why Shakespeare's "Dark Lady" should be anything more than an interesting fictional variation of the "Fair Lady" theme popular in the sonnet-writing fad of the 1590s.
But what if, after all, Lanier was Shakespeare's "Dark Lady"—not, as Rowse imagined, because she may have met Will Shakespeare through Hunsdon's sponsorship of his acting company, the Lord Chamberlain's Men, but from the simple happenstance of having literally bumped into Shakespeare on the street.  What if she met him again when she was being paid to sing for the Earl of Southampton, his patron and probable lover, and what if she took him with her on a journey to Italy to claim a Bassano inheritance, helped him write his earliest comedies, fell in love, and then had him leave her in grief and guilt over news of the death of his son Hamnet?  What if, instead of meeting Shakespeare through Lord Hunsdon, it was Lanier who helped out Will by getting Hunsdon to become patron of his acting company?
Mary Sharratt's The Dark Lady's Mask: A Novel of Shakespeare's Muse makes excellent use of the known facts about Lanier's life, then weaves around them a set of fictional possibilities richly invoking the late renaissance world and offering plausible motivations for an ambitious and talented woman of the period.  The "Masks" of the title are multiple:  Sharratt's Lanier literally wears them during court entertainments in her years as Lord Hunsdon's mistress and again in Venice.  She takes to riding out in the world disguised as a young man in order to breathe some of the freedoms unavailable to women. She hides her own gifts as poet and playwright behind the name of her collaborator, Will Shakespeare.  She must, in various circumstances, keep her true feelings—of anger, or love, or grief—hidden in order to meet the expectations of the society around her.  And perhaps above all, as with her Venetian Bassano relatives, she must hide the secret of her father and her paternal ancestors: their Jewish heritage.
Aemilia Bassano Lanier in this telling is a scholar of Greek and Latin, but not Hebrew, and one of the the book's leitmotifs is her longing to understand and somehow incorporate what she learns to be her father's secret identity, shared with his brothers on Friday nights in the cellar of their home.  Long after his death, it sends her with her cousin Jasper Bassano to Venice and then (without Jasper—he gets cold feet) on to the town of Bassano, with Will Shakespeare, her two-year-old son Henry, and her three loyal servants, the Weir sisters.  It's not possible to tell more of the story without giving away some of the twists and turns which Sharratt weaves beautifully through and sometimes well beyond the fabric of what we do know of Lanier's life and, to a lesser extent, of Shakespeare's.  Like the various masks Sharratt ascribes to Lanier, this historical romance has multiple layers.
Holding the various threads and layers together are the motivations, regrets, aspirations, and discoveries that Sharratt attributes to the character of Lanier herself.  As someone who spent 20 years of my life learning and thinking about Lanier and her poetry, I don't quite see my own vision of the historical figure in this book.  But I like very much what I do see: a fictional character who lives all the parts of Lanier's life that we do know, and has some pretty wonderful adventures and discoveries beyond those boundaries. This is enjoyable reading, carefully and lovingly researched.
—Susanne Woods, editor of The Poems of Aemilia Lanyer (Oxford, 1993) and author of Lanyer: A Renaissance Woman Poet (Oxford, 1999), in JEWISH RENAISSANCE
"Entertaining . . . . The idea of a smart, beautiful, artistic woman telling Shakespeare, 'We shall write comedies, you and I' is as heady as the elderflower wine Aemilia's household staff brews. Aemilia begins the story as a bright-eyed 7-year-old and ends as a clear-eyed woman in middle age, a woman whose experiences have taught her that wearing a mask can protect and also conceal. In the aftermath of her artistically and personally explosive travels with Shakespeare, Aemilia grounds herself in caregiving for family and nurturing younger women's talents. . . . it's quite touching, a finale befitting a character who has spun many a tale without ever seeing a byline."
—WASHINGTON POST
"In The Dark Lady's Mask, Sharratt transforms an academic debate about authorship into a tale bursting with the sounds and smells of Renaissance England, the political intrigues of the British royal court, and the appalling restrictions placed on people because of religion and gender. If all the world's a stage and all the men and women merely players, then Sharratt reveals the people behind the masks in a novel that blends mystery, poetry, politics and prejudice. Atmospheric, well-researched, carefully plotted, this is an intellectual's romance novel . . . . full-bodied and intelligent, and, like Shakespeare's plays, chock-full of equal parts mirth and pith to please all."
"Glorious . . . . It's too easy to categorize The Dark Lady's Mask as a novel of romance and Shakespeare. This is a novel of womanhood, its constraints and celebrations. Sharratt could not have picked a better character through which to channel an examination of Tudor society and the quest to challenge it."
"Mary Sharratt has written a compelling story about a little-known Renaissance woman who may or may not have been William Shakespeare's muse or 'Dark Lady' . . . . I read the story of the real Aemilia Bassano Lanier, and was impressed by how Sharratt weaved the fiction and non-fiction together . . . . One could say that Sharratt's Aemilia did 'suffer the slings and arrows of outrageous fortune,' in her life."
"It is not often that I read a novel that makes me want to do actual research on a person – in a good way, not a fact-checking way – and then blog about it. But Sharratt's latest novel did just that. It is a wonderful take on an often-speculated theory that Aemilia Lanier may have been the Dark Lady of Shakespeare's sonnets.
In Sharratt's story, Aemilia Lanier, historically the first professional woman poet in England, is the daughter of a Marrano (a Jew who was forced to convert to Christianity). She is educated from the age of eight in the home of the Countess of Kent after her father's death. From there, she becomes the mistress of the Lord Chamberlain, bears his son, is banished from Elizabeth's court in disgrace, and married off in haste to Alfonso Lanier to mitigate the scandal. She eventually flees to Italy with a relative, taking with her the up-and-coming poet William Shakespeare. Lanier initially proposes a business deal with him to co-write plays together, since she knows she couldn't publish them under her own name. The two fall in love and add their passion to their writing. Things go awry, and ultimately Shakespeare ends up publishing his sonnets as attacks against Aemilia, and she replies by publishing her Salve Deus Rex Judaeorum.
Sharratt creates a believable and delightful portrayal of Lanier and her possible role as Shakespeare's Dark Muse. Her characters are rich and complex, and the intricacies, joys, and pains of their lives are realistic. The speculation within the novel works extremely well, because Sharratt works with historical fact and academic theory in the space between the documented facts of Lanier's life, Shakespeare's life, and their written works. Very highly recommended!"
—HISTORICAL NOVELS REVIEW EDITOR'S CHOICE PICK

"Sharratt is a superb storyteller. The Dark Lady's Mask is beautifully written and meticulously researched. It offers us a window into both the worlds of court musicians and of women in Shakespeare's era. The characters and the musical realm come alive. In Aemilia's case, her particular life circumstances – in which she was first a mistress to a nobleman, then forced to marry, and altogether unable to fully pursue a literary career – demonstrate the stark realities of the lives of historical women. This is Sharratt's area of expertise; The Dark Lady's Mask is the latest addition to her historical repertoire, in which she gives voice to women who were unable to be fully heard in their own time."
—AMERICAN RECORDER
"This is no romp romance novel. This is a highly intelligent look at the life of Aemilia from her childhood to womanhood, with all she had to overcome, with a part of that possibly being a relationship to Shakespeare. However, Sharratt doesn't present it as a tryst for the sake of creating romance or drama. That would have done an injustice to Aemilia and I am pleased she didn't take that route, but instead, focused more on their collaboration and their deep emotions for each other. Sharratt presents Aemilia as more his equal, his inspiration, and as the highly educated and strong woman that she seemed. Sharratt truly has accomplished writing Aemilia back into history in a most fervent manner, showcasing the efforts of women from a time when women still weren't appreciated for their brains or artistic talents."
Shakespeare's Muse
"There's a period in Shakespeare's life that's a mystery. From 1585 until 1592, when he is an established playwright and actor, it's not known how or where he made a living or how he got started in the theater. This has lent much historical speculation and several novels that attempt to recreate his 'story.' I find Mary Sharratt's solution to his whereabouts and life one of the most creative and best that I've read. Her extensive knowledge of the 'Bard of Avon' and her historical research has made Aemilia a fascinating collaborator and muse for Shakespeare. Aemilia Bassano's own life as a woman during the Renaissance in itself was fascinating. The similarities of some characters in the novel to those of Shakespeare's plays made this novel filled with comedy and tragedy. I loved it!"
"The identity of Shakespeare's Dark Lady is still a mystery, but Sharratt's picaresque novel portrays one of the worthiest candidates. Aemilia, illegitimate daughter of Battista Bassano, a Venetian Jew in exile and a renowned musician in Queen Elizabeth's court, enjoys a privileged upbringing. But her father's death and her stepsister's marriage to a ne'er-do-well impoverishes her family. Rescued and educated by a Puritan noblewoman who later abandons her, Aemilia becomes, at 16, the mistress of Lord Hunsdon, Elizabeth I's chamberlain, himself an illegitimate son of Henry VIII. When Aemilia becomes pregnant at 23, Hunsdon marries her off to Alfonse Lanier, a dissolute Frenchman. After Lanier wastes all her wealth, Aemilia contacts Will Shakespeare, an unsuccessful playwright of dull history plays, with a proposition. With her vivid imagination and superior education, she will co-author plays with the yet-to-be Bard, and they will split the profits. News of an unexpected legacy takes her to Venice, where she keeps her Jewish identity, and often her gender, secret. (She dresses in men's clothes when she needs to escape the many strictures on women.) Shakespeare, with not a thought for his wife, Anne Hathaway, and their three children, accompanies Aemilia (and Henry, her son by Lord Hunsdon) to Italy, where the two lead an idyllic existence at her inherited Veronese villa, co-writing Twelfth Night and Romeo and Juliet (as a comedy)—and falling in love. Here, Will pens his "Dark Lady" sonnets—but the bloom falls precipitously off the rose when he learns of the death of his son, Hamnet. Plunged into intractable remorse, Will parts ways with Aemilia, and both return to England by separate routes. However, Aemilia has possession of their joint work product—and Will's unborn child. The many challenges of life in Elizabethan England, particularly for women, are expertly captured by Sharratt, who heretofore has brought similar life to another gifted woman, Hildegard of Bingen (Illuminations, 2012). An ambitious fictional biography."
— KIRKUS
"Sharratt's . . . latest is a well-constructed historical novel set in Elizabethan England about the Bard of Avon, adopting the premise that Shakespeare relied on a female collaborator. A Jewish orphan whose persecuted family fled Italy and became royal court musicians, Aemilia Bassano Lanier aspires to become a poet (as the historical Lanier actually did). The well-educated Aemilia later becomes a cross-dresser, gets pregnant as a lord's concubine, and is forced to marry the spineless court musician Alfonse. She meets Will Shakespeare and invites him to accompany her on a family trip to Italy, where she falls in love and cowrites romantic comedies with the poet. The author pulls few punches in her less than flattering portrayal of Shakespeare. After receiving the tragic news of his son's death, Shakespeare ends their relationship and returns home, where he hopes to stage their plays. Aemilia also returns to England to find Alfonse disease ridden, and her troubles with Shakespeare continue to mount, culminating with his published sonnets vilifying her as the dark lady. Although the plucky Aemilia composes and publishes her own well-received poetry volume, her meager sales fail to improve her finances as Sharratt brings her bold Shakespearean novel to its poignant conclusion."
"Aemelia Lanier was a woman ahead of her time. Uncommonly educated and artistically talented, she began her adult life as a courtesan in the court of Elizabeth I, only to wind up cast-off and trapped in a loveless marriage. A chance encounter with William Shakespeare and the descent of the plague on London offer Aemelia the opportunity to escape her life and start anew. In the idyll of the Italian countryside, she and Will blossom—as poets and lovers. However, stolen pleasures are soon thwarted; Shakespeare and his muse return to England separately, where his star rises as her life stagnates. With fire in her soul, Aemelia bides her time until the day she can use her pen to advocate openly for herself and the rights of women everywhere. VERDICT In her latest novel (after Illuminations), Sharratt delivers an immersive narrative of doomed romance. Readers of Philippa Gregory and the like are sure to enjoy."
— LIBRARY JOURNAL 
"Prepare to be swept away by Mary Sharratt's latest foray into historical fiction. Inspired by the true story of poet, Aemilia Bassano, THE DARK LADY'S MASK explores her relationship with William Shakespeare. Richly detailed and well researched, this lush tale brings Aemilia out of the shadows of history and let's her emerge as one of the founding mothers of literature. Drama, intrigue, and romance will have readers racing through this brilliant celebration of the muse."
— PAMELA KLINGER HORN, Excelsior Bay Books

"An exquisite portrait of a Renaissance woman pursuing her artistic destiny in England and Italy, who may — or may not — be Shakespeare's Dark Lady."
— MARGARET GEORGE, internationally bestselling author of Elizabeth I
"Perfectly chosen details and masterful characterization bring to life this swiftly moving, elegant story. As atmospheric and compelling as it is wise, The Dark Lady's Mask is a gem not to be missed."
— LYNN CULLEN, bestselling author of Mrs. Poe and Twain's End
"Mary Sharratt's enchanting new novel, The Dark Lady's Mask, is a richly imagined, intensely romantic and meticulously researched homage to lauded poet, Aemilia Bassano Lanyer, an accomplished woman of letters who many believe to be Shakespeare's Eternal Muse. Sharratt unfolds a captivating tale, a compelling 'what if ' scenario, of a secret union that fed the creative fires of England's greatest poet and playwright."
— KATHLEEN KENT, bestselling author of The Heretic's Daughter
"Mary Sharratt is a magician. This novel transports the reader to Elizabethan England with a tale of the bard and his love that is nothing short of amazing. Absorbing, emotional, historically fascinating. A work of marvelous ingenuity!"
— M.J. ROSE, New York Times bestselling author of The Witch of Painted Sorrows
"Mary Sharratt has truly found her own muse in Aemilia Bassano Lanier, and I felt the passion for her subject with every elegant phrase, compelling character, and twist in the tale of Shakespeare's possible Dark Lady."
—ANNE EASTER SMITH, author of A Rose for the Crown
"I enjoyed this exciting fantasy of Shakespeare's 'dark lady.' There was adventure, betrayal, resilience, and above all, the fun notion that Shakespeare might have had far more than a muse to help him create his wonderful plays."
—KARLEEN KOEN, bestselling author of Dark Angels and Before Versailles
"Through the story of Aemilia Bassano, a talented musician and poet, Mary Sharratt deftly tackles issues of religious and gender inequality in a time of brutal conformity. The Dark Lady's Mask beautifully depicts the exhilaration and pitfalls of subterfuge, a gifted woman's precarious reliance on the desires of powerful men, and the toll paid by unrecognized artistic collaborators. Resonant and moving."
—MITCHELL JAMES KAPLAN, author of By Fire, By Water
"In The Dark Lady's Mask, Mary Sharratt seduces us with a most tantalizing scenario —that the bold, cross-dressing poet and feminist writer Aemilia Bassano is Shakespeare's mysterious muse, the Dark Lady. Romantic, heart-breaking, and rich in vivid historical detail and teeming Elizabethan life, the novel forms an elegant tapestry of the complexities, joys, and sorrows of being both a female and an artist."
—KAREN ESSEX, author of Leonardo's Swans and Dracula in Love
"Mary Sharratt has created an enchanting Elizabethan heroine, a musician, the orphaned daughter of a Jewish Italian refugee who must hide her heritage for her safety. Taken up by powerful men for her beauty, Amelia has wit and daring and poetry inside her that will make her a match for young Will Shakespeare himself and yet she must hide behind many masks to survive in a world where women have as much talent as men but little power."
— STEPHANIE COWELL, author of Claude & Camille: A Novel of Monet