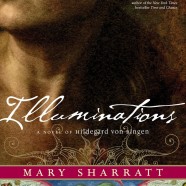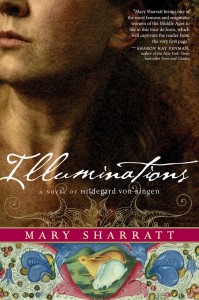 Like billowing clouds, like the incessant gurgle of the brook, the longing of the spirit can never be stilled.
–Hildegard von Bingen
Dear Friends,
I've had a very busy, productive summer.
My novel ILLUMINATIONS: A NOVEL OF HILDEGARD VON BINGEN has won the 2013 Nautilis Gold Award: Better Books for a Better World.
October 15, 2013, ILLUMINATIONS will be released in trade paperback. I think the cover is absolutely lovely!
Be sure to catch my Virtual Book Tour, beginning in October, which features book giveaways, reviews, contests and more.
I will also be visiting Minnesota for author events:
2:30 pm on Friday October 11, I will be speaking about ILLUMINATIONS at the Minnesota Library Association Convention's Break Out Books Series at St. Cloud's River's Edge Convention Center, 10 4th Ave. S., St. Cloud, Minnesota
10:00 am on Saturday October 12, I'll be visiting the Book Group at Fridley United Methodist Church, 680 Mississippi St. NE, Fridley, Minnesota.
2:00 pm on Sunday October 13, I'll be speaking in the Wilder Room at Chanhassen Library, 7711 Kerber Blvd, Chanhassen MN 55317
7:00-9:00 pm on Tuesday October 15, I will be joining Gabriel Ross of Creative Spirit for an An Evening Celebration of Hildegard of Bingen at Wisdom Ways Center for Spirituality, Carondelet Center, 1890 Randolph Avenue, St. Paul, MN 55105. This very special event will include presentation, conversation, and ritual surrounding Hildegard's music, theology, and life and a discussion of what Hildegard's work offers women today.
I'll also be visiting some wonderful Twin Cities private book groups.
1:00 pm, October 30, the Luann Dummer Center for Women's Book Club will be discussing ILLUMINATIONS. I will be attending via Skype. Luann Dummer Center for Women, University of St. Thomas, 2115 Summit Avenue, St. Paul, MN 55105
If your book group would like to have me visit via Skype, please email me via my website. I love book groups!
In other news, my new novel in progress, THE DARK LADY'S MASQUE, the story of Aemilia Bassano Lanier, the first professional woman poet in Renaissance England, and her collaboration—and star-crossed love affair—with William Shakespeare, as his Dark Lady, sold to Nicole Angeloro at Houghton Mifflin Harcourt. The publication date will probably be sometime in 2015. I'm really enjoying writing this new novel!